13 Sahoma Lake Road in Sapulpa, OK 74066 (918) 216-1171
$5.50 PER PERSON includes tax.
LIKE us on FACEBOOK
​
MEET OUR ADVISORY
BOARD OF DIRECTORS
Richard Holmes, President
Steve Clark
Bryant Coffman, Treasurer
Jim Dilley
Rick Engleman
Ted Fisher
Lina Holmes
Robert Parker
Michael Pierce, Vice President
Bill Warnock
Ronnie Watson
Larry White, Board Chairman
Ty Young
Heart of Route 66 AUTO MUSEUM
Heart of Route 66 Auto Museum will be the
ONLY Oklahoma Stop for the 2021 GREAT RACE. Monday, June 21, 2021
Racers will begin arriving at noon and will continue until 3:00 pm. While the drivers and navigators enjoy lunch, you'll be able to see their cars.
​
Drivers begin their journey in San Antonio, TX and travel through eight states -- with the finish line in Greenville, SC.
​
​
REGULAR HOURS
OPEN TUESDAY THROUGH SATURDAY ~ 10 AM TILL 4 PM
OPEN SUNDAYS ~ NOON TILL 4 PM
Home of

the
World's Tallest
Gas Pump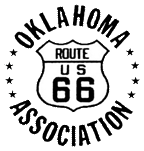 ADVISORY
BOARD OF
DIRECTORS
Richard Holmes
Steve Clark
Bryant Coffman
Rick Engleman
Ted Fisher
​
Clint Oare
​
Robert Parker
Michael Pierce
Bill Warnock
Ronnie Watson
Larry White
Ty Young
Lina Holmes